When it comes to exterior commercial painting, there's no taking chances. Otherwise, fading, peeling, chipping, cracking, and other failures affect the coating and the building's structural integrity.
It helps to know the best paints for your commercial building's exterior surfaces, usually subject to weather changes and temperature extremes. Plus, because commercial buildings are generally located in an urban or industrial setting, pollution can also undermine the condition of exterior surfaces.
Top-quality exterior paints adhere better to substrates than cheap paints. They can resist cracking, repel moisture, and retain color and gloss, extending the life of your commercial property.
If the proper painting techniques are applied, a fresh coat of quality paint offers better protection for your commercial building and a more enhanced curb appeal.
The trick to choosing suitable types of paints for exterior surfaces depends on several considerations. The best painters in the Bay Area will guide you to the right paints to protect and beautify your commercial building.
The best paints and coatings for exterior commercial painting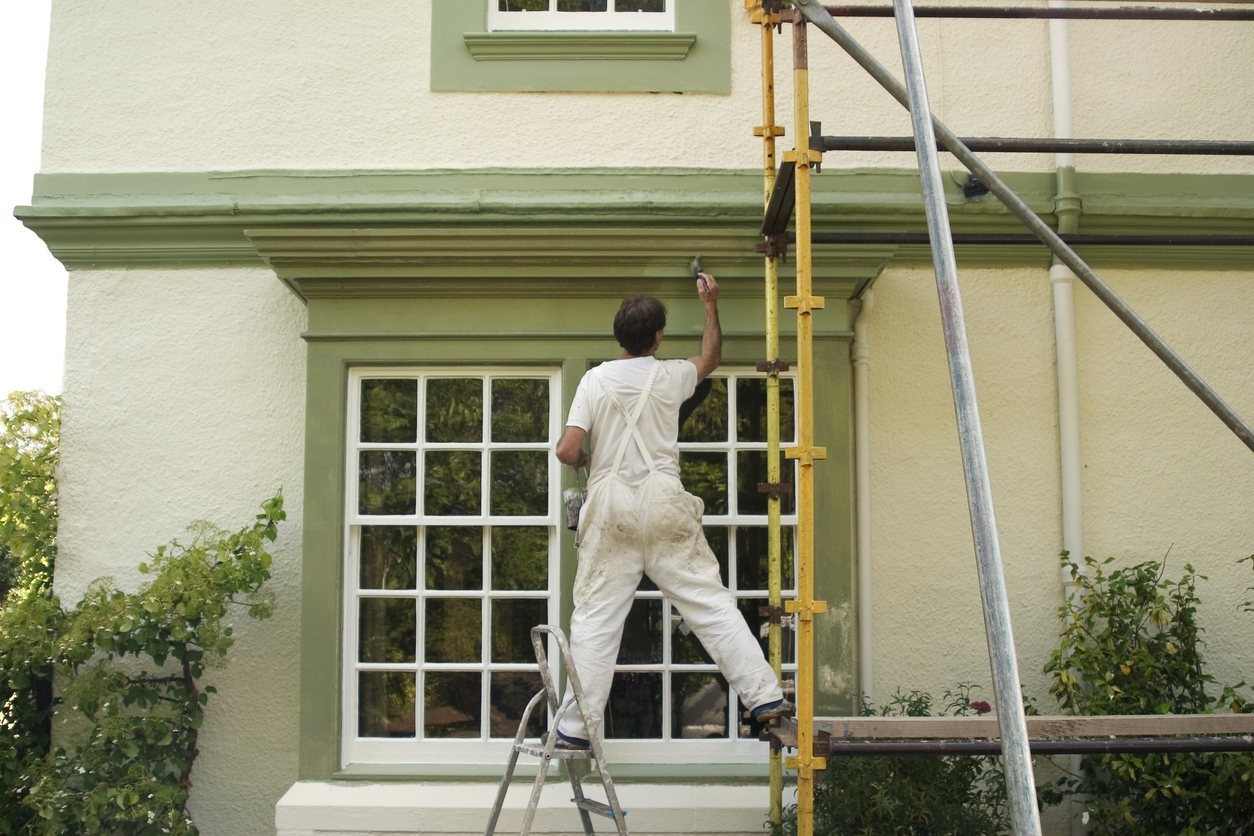 1) Latex paints
Latex paints are water-based paints with synthetic binders such as acrylic resin and polyvinyl acetate. They are available in a vast number of colors and finishes, leaving you with many options, especially if you want to paint your building differently. They dry very quickly and are easy to clean.
On the flip side, latex paints are neither durable nor resistant to scuffing. But it doesn't matter, especially if your location does not have the abuse usually seen in an industrial environment.
Despite the drawbacks, latex paints are still the most preferred paints for commercial properties. Most owners appreciate latex paints for quick drying, enabling them to open up or re-open their businesses on a specific schedule. The longer paint takes to dry, the slower their business activity, and the more likely they lose customers.
Choose high-quality latex paints in a semi-gloss or glossy finish for the best results.
2) Acrylic paint
Acrylic paints are also water-based paints, just like latex. However, acrylic paints have greater amounts of acrylic polymers than latex, giving them a thicker and more viscous consistency. These properties provide acrylic paints greater flexibility and durability than latex paints.
A 100% acrylic paint provides excellent cracking resistance and better color and gloss retention than other water-based paints.
3) Oil-based paints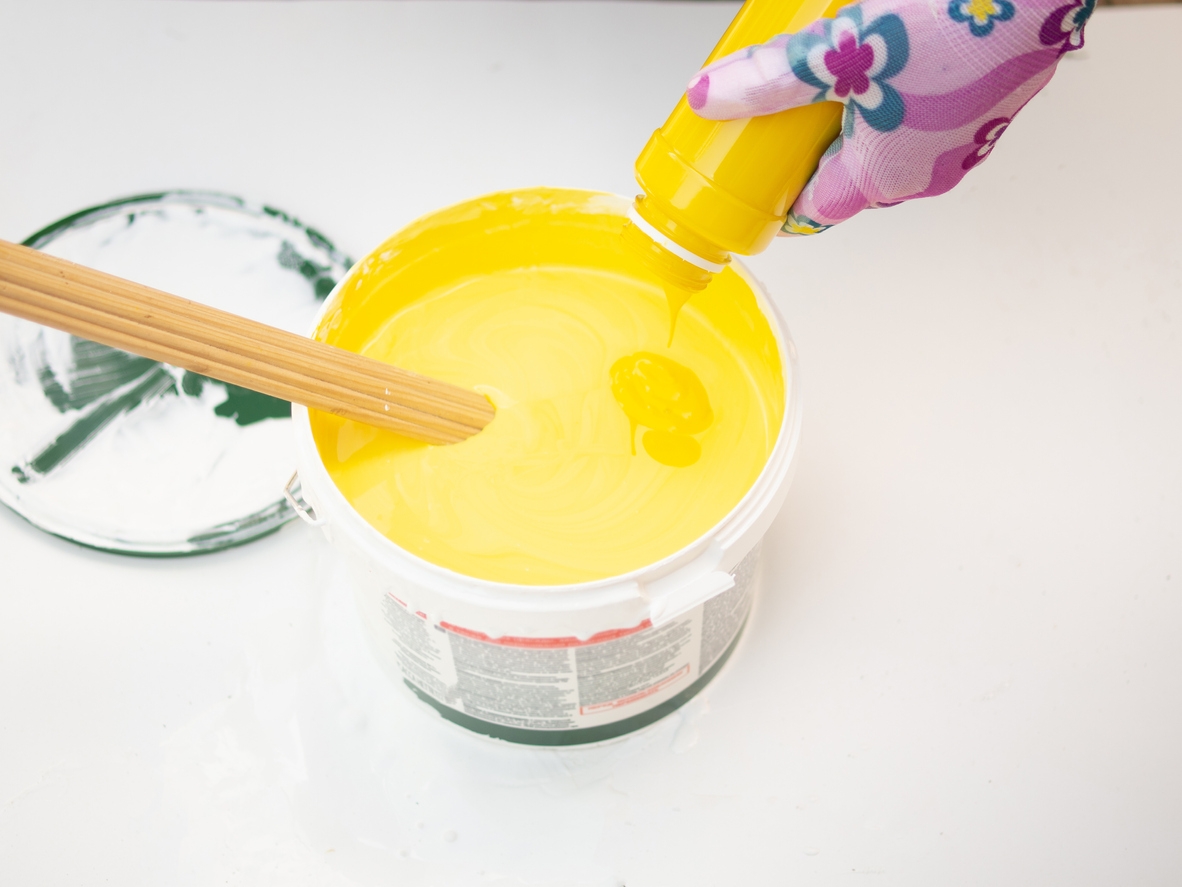 If you are looking for exterior paints with better durability than latex or acrylic, choose oil-based paints. Whether made of natural or synthetic oils (alkyd), oil-based paints can be a good option if you're looking for a durable finish to withstand scratches, moisture, and constant cleaning and scrubbing. Oil-based paints do not get stained and fade away (even under direct sunlight) as easily as latex.
Oil-based paints give exterior surfaces a smooth and glossy finish, which can be a plus for your commercial property's curb appeal. On the downside, oil-based paints can be challenging to apply and take longer to dry, which might slow down your business.
The strong odors may not be a big issue when used outdoors. But it doesn't discount the fact that oil-based paints still harm human health and the environment. Their vapors can be especially noxious and cause air quality problems, such as smog.
4) Elastomeric paint
Elastomeric paint is a high-build coating that protects masonry surfaces, such as brick, stucco, and building stones (that include adobe, cast, concrete, glass, granite, limestone, and marble). Elastomeric paint is also suitable for use on other surfaces, such as wood, metal, and vinyl.
Elastomeric paints are an excellent option to waterproof your commercial building, protecting it against the adverse effects of water penetration.
Once applied on the surface, elastomeric paints form a tough film that hides surface imperfections and bridges non-structural hairline cracks. Their flexibility also makes them highly adaptable to temperature changes.
However, elastomeric paints have an incredibly thick coating – 10 to 20 mils per coat compared to the 3 mils per coat (maximum) in regular paints. The dense consistency makes elastomeric paints quite challenging to apply, especially if you're not trained or experienced in using such paints.
Apart from commercial use, elastomeric paints are also used in industrial applications.
Choose Custom Painting, Inc. for your commercial painting needs
Custom Painting, Inc. knows the ins and outs of a paint job, whether commercial or residential. Our experienced paint crews have tackled jobs in varying environments and situations. Being one of the best painting contractors near me, Custom Painting, Inc. is ready to take on whatever project you envision.
At Custom Painting, Inc., we can help you select paints that will work best for your situation. We can also use the proper application methods to guarantee a solid, long-lasting finish that will protect and beautify the exterior of your commercial property.