T1-11 siding is a rough or sanded type that's used for small commercial structures, outbuildings, sheds, and similar structures. It's one of the more economical materials used in construction and mostly consists of plywood. If you want to make the most of this material, remember that it requires regular maintenance. Along with maintaining aesthetics, we must consider factors such as moisture protection, durability, and discouraging mold/mildew growth.
Choosing the right paint for T1-11 siding
If it's not protected from outside elements, T1-11 siding can crack, fade, and peel after some time. As a result, your building's exterior will look unsightly and unappealing. While repairing is a logical solution in such cases, you must choose the right paint. Any old paint won't do since you have to cover the peeling areas, cracks, and other imperfections.
In short, T1-11 siding painting is not a shortcut-friendly project. You have to clean the siding, replace or repair damaged pieces, and prime the surface. Any compromise and your T1-11 will probably incur more damage in the future.
I. What is T1-11 Siding?
When we want to have a more texture and robust exterior, T1-11 siding might be a great option. Here's an explanation of this material, its composition, and applications:
Explanation of T1-11 siding and its composition
T1-11 siding usually consists of plywood sheets. These, in turn, are made up of plies or players of wood veneer joined together. The wood species might differ, but softwoods like fir and pine are the most common choices. There are also engineered wood options available in some regions.
Some other features of the T1-11 siding composition include:
A grooved, textured appearance, with the groves being vertical and evenly spaced. The number of grooves and their spacing pattern depend on the T1-11 siding design.
Exterior treatment, including different coatings or preservatives. These add to the siding's overall damage resistance and durability factor.
Varying sizes, with the most common being around 4 by 8 feet. The thickness of T1-11 siding sheets may also vary, but the standard is usually five-eighths of an inch.
To save time, money, and hassle, we should consider hiring the best T1-11 siding painting services in Livermore. This way, we can be sure of a thorough, professional result. With proper repainting and restoration, such services can also stave off damage in the long run.
Before settling for any of the top exterior painting services in Livermore, we should note their specific offerings. There might be some difference in the T1-11 siding composition based on the product line and its manufacturer.
Common applications of T1-11 siding
T1-11 siding was quite popular in home construction between the 1960s and the 1980s. With composite and vinyl siding gaining more acceptance, T1-11 siding is now usually considered durable and water-resistant material for smaller outdoor structures.
This material can successfully resist moisture and water damage with a quality stain and paint job. It also has texture and grooves, which makes it a versatile material for various applications. Some of the most common uses of T1-11 include:
Barns, sheds, outhouses, and any structure that is exposed to harsh weather elements
Garage doors for a rustic appearance
Garden sheds
Gable ends
Outdoor playhouses
Utility sheds
Storage buildings
Decorative accent walls or exterior facades
Interior wall paneling if the space has a rustic or countryside theme
Roof sheathing for residential buildings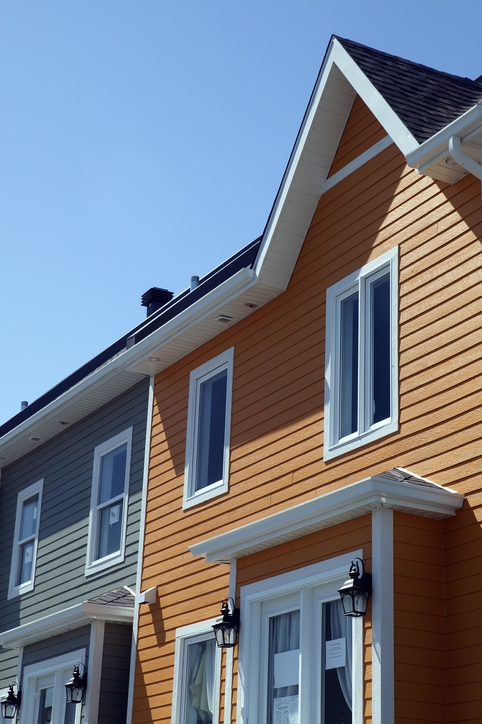 Factors to consider before painting T1-11 siding
T1-11 siding can retain its longevity and moisture resistance with proper installation and upkeep. Painting or staining this material can help us get a specific look and provide protection. Before painting this type of siding, here are some factors to keep in mind:
The T1-11 siding is usually sold unfinished, so the owner or builder can easily paint or stain it in their preferred color.
The siding shouldn't have any loose panels, rot, or other forms of damage.
The surface should be recently cleaned so there's no mildew, dirt, or dust to mar the finish.
Any previous finish, stain, or paint should also be removed beforehand.
At the time of painting, the weather should be somewhat mild, preferably between 50 and 85 degrees Fahrenheit.
Hot sun or direct sunlight can cause the paint coats to dry very quickly, leaving an uneven finish.
Use a high-quality primer made for exterior wood; it enhances paint adhesion, especially for new designs.
The paint should be exterior-grade, durable, and easy to clean.
The paint color should complement the style and aesthetic of the main building.
II. Types of Paint for T1-11 Siding
Some paints for T1-11 siding are better than others. Here's a breakdown of some common options and how they work with this material:
Latex
This is a popular option for T11-11 since it's durable, has good adhesion, and resists peeling or cracking. It's also usually available in a variety of colors. Latex paint is also easier to clean and apply than most other choices. However, some people can have latex allergies.
Acrylic
This is also a fast-drying, versatile, durable, and crack-resistant option. If applied properly, this paint type can also be fade-resistant and peel-resistant, protecting T1-11 siding for a long time. It's versatile, easy to apply, and usually available in eco-friendly, low-volatile organic options. However, using this paint type also requires regular maintenance and a relatively higher initial cost.
Oil-based
These paints are usually durable, give smooth results, and have above-average adhesion. They also provide a nice protective barrier for T1-11 siding. On the downside, they take longer to dry than latex or acrylic paints. The fumes they emit are another concern, so use them in a well-ventilated area.
Solid stain
These are a midway solution between transparent stains and solid paints. While they do give a colored appearance to the siding, there will be some grain and texture showing through. It preserves the rustic appearance of the siding. Such stains are also breathable, better for a T1-11 wood siding's longevity.
Semi-transparent stain
This is the right choice for anyone who wants to stick with the natural wooden aesthetic of T-11 siding. Stains will protect the material while also providing a nice finish.
III. Factors to Consider When Choosing Paint Type
When you call in the best painting contractors Livermore provides, remember that the best paint choice depends on various factors. These include:
Climate and Weather:
If the region has extreme temperatures, choosing a crack-resistant paint that can withstand regular thermal expansions and contractions is imperative.
For coastal areas, moisture-resistant paint is a must for withstanding the salt and humidity levels.
Waterproof and mildew-resistant paint is best for areas with a lot of rain.
The paint should have UV-resistant properties for high sunlight exposure to stave off damage and fading.
Siding Condition and Age:
New siding needs a primer that's suitable for new wooden surfaces.
Older panels may have imperfections requiring a more robust paint to cover the flaws.
The siding material may vary, with most wooden options requiring a breathable paint.
Maintenance and Longevity
Set a maintenance schedule and consider how much you can invest in siding maintenance.
Some paint types might have more long-lasting protection, so choose accordingly.
Quality paints may have higher durability and longer warranties, making the higher upfront cost worthwhile.
Some paint types are easier to touch up and keep clean than others.
Quality T1-11 siding gives buildings an aesthetically pleasing appearance. Using the right paint for this siding will produce the perfect protective coat for safeguarding exteriors. The discussion above should help with this selection. Look at your T1-11 siding today and see if it needs a repaint!
If you need help with painting your T1-11 siding, do not hesitate to contact Custom Painting, Inc. You may call us at (925) 294-8062 or fill out this form to schedule and receive a free estimate for all your painting needs.