A commercial space that looks clean is good for your business. It gives the impression that it is a safe and healthy place and that you care about maintaining your company's image and preserving its assets. 
Not everyone realizes it, but a clean and neat-looking building can be used as a marketing tool that helps you boost your reputation and grow your business. This is one of the benefits of doing upkeep to your Livermore, CA business. One of the quickest and most effective ways of cleaning the exterior surfaces of your commercial space is pressure washing. 
We at Custom Painting, Inc. do a lot more than paint. We also offer pressure washing. If you are interested to know what pressure washing is, as well as avail yourself of our pressure washing services, read on to learn more.
What are included in pressure washing services?
Pressure washing involves the use of pressurized water jets to remove various contaminants (such as dirt, mud, oil, grease, grime, mold, moss, algae, etc.) or other material (such as old paint) from the surface.
A pressure washer is a mechanical tool used for this purpose. Before, most pressure washers were only available for professional use. Today, you can find different types of pressure washers both for commercial and domestic use.
Here are some of the common types of pressure washers:
By power source:

Gas-powered – Gas-powered pressure washers provide more power and mobility, making them suitable for heavy-duty cleaning jobs that require removing deep-seated stains. However, they tend to create some noise. They are also not an environmentally friendly option.

Electric – Electric pressure washers offer lower power and cleaning pressure than gas, but they are often more than sufficient for light cleaning tasks. They also don't emit fumes, making them a safer and more eco-friendly choice. However, you have to find an electrical source to use this tool, which limits its portability.
By water temperature:

Cold water – Cold water pressure washers are ideal for light cleaning tasks such as removing mud, mold, oil, grease, grime, etc. Since they typically use less energy than hot water, cold water pressure washers are suitable for routine cleaning jobs.

Hot water – Hot water pressure washers use heated water for removing oil, mud, grease, grime, and other stubborn stains quickly and effectively. In addition, hot water can be effective in getting rid of germs, bacteria, viruses, and other pathogens, thus sanitizing surfaces.
You can use the pressure washer to clean certain areas of your commercial building, such as decks, exterior walls, garages, parking lots, sidewalks, fences, gates, driveways, roofs, gutters, patios, and even windows. Most surface materials like wood, concrete, vinyl, fiber cement, stone, and metal can stand up to pressure washing.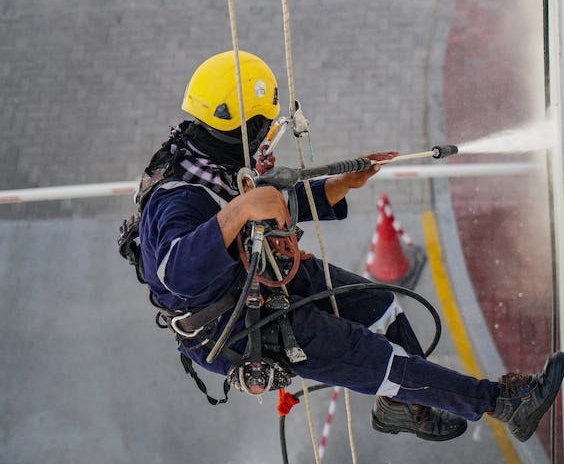 Advantages of using pressure washing services for your business
Whether you're running a small business or a big company, you should see pressure washing services as an investment. It cleans your commercial space quickly and effectively, which is something you cannot get from traditional cleaning methods such as mechanical scrubbing and chemicals. Here are some ways how pressure washing services can benefit your business:
Professionals have the skills and experience to handle commercial pressure washers.

It enhances your commercial property's curb appeal.

It removes the toughest and most stubborn stains.

It makes the business look more inviting.

It is a safe and more eco-friendly choice.

It promotes a safe and healthy environment.

It reduces maintenance costs.

It prepares the surfaces for paint, stain, and other coatings.

It saves time, money, and effort.

It preserves the integrity of your commercial space.
Choose Custom Painting, Inc. for your pressure washing needs
If you are looking for a reliable pressure washing service in the Bay Area to spruce up your property, visit Custom Painting Inc., for pressure washing jobs that restore and enhance the look of your commercials space. We bring more than 40 years of experience and expertise to any project, whether it is an exterior paint job, custom crown molding installation, acoustic ceiling removal, or pressure washing service.
Call us at 925-294-8062 or send us a message to our website. We look forward to working with you!