Recently, the expert painting team of Custom Painting, Inc. has successfully finished repainting the exteriors of Kairos Power, which is a large warehouse used as a nuclear research and testing facility in Alameda, CA. It is located on an old Navy base because the site was an old rail hangar built in the 1940s. It was leased in 2017 by Kairos Power. 
The building has earthquake-ready features and is equipped with an overhead crane that spans the width of the building. It is constructed with stucco and steel. And even if it has no supporting pillars on its interiors, it remains intact because of its underground piling and bracing system. 
The old building has been repainted a lot of times since it was in use. Before Kairos Power leased the property, it was also used as a manufacturing building. However, it sat idle and unkempt for a lot of years. The paint on the window frames was still lead-based, which required proper removal. Luckily, a lead removal company completed the lead paint removal process before painting to ensure there was no contamination of the environment.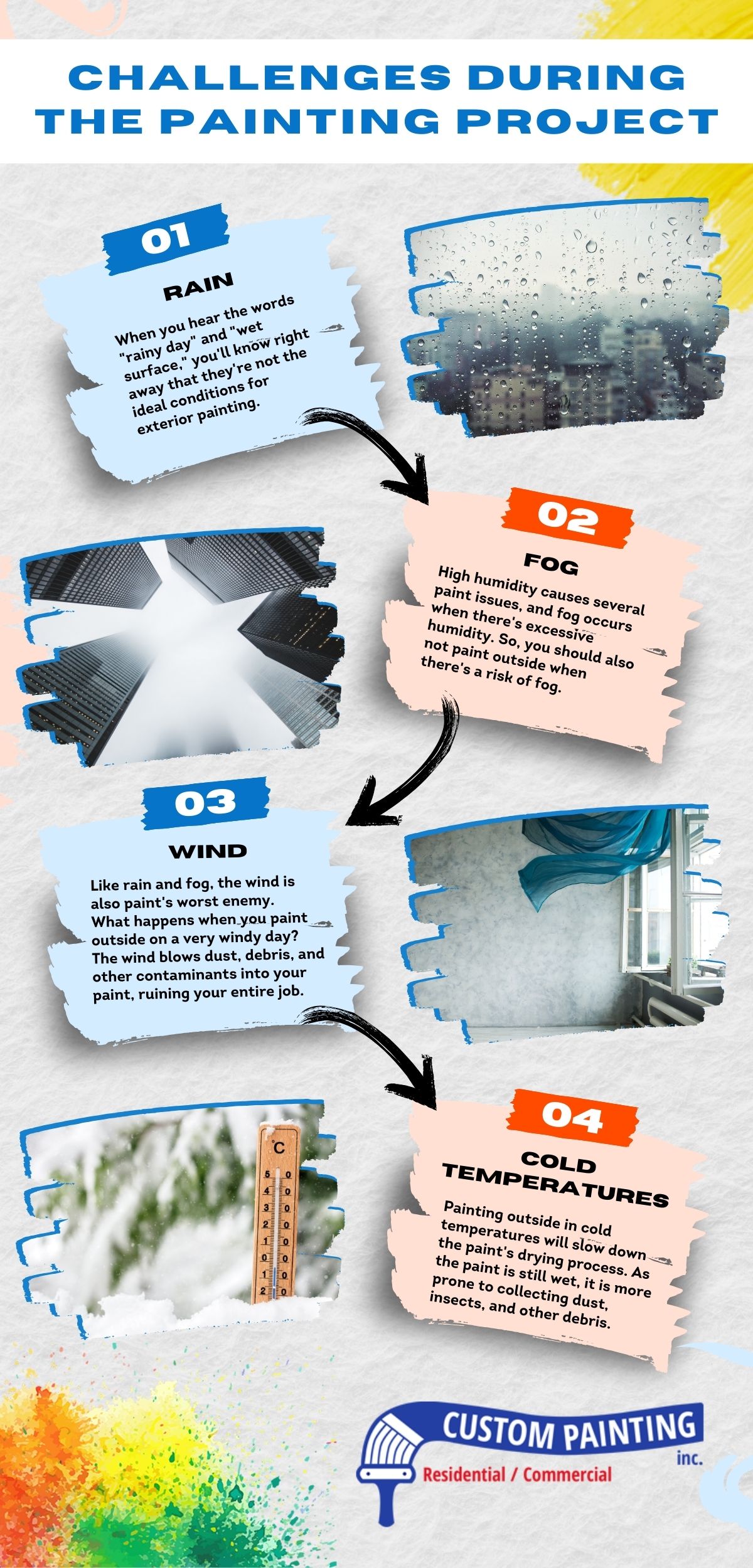 During the project, our painters faced a lot of challenges, mostly with the weather. It's because the project was scheduled during the winter season, wherein wind, fog, rain, and cold temperatures are all present. Since our skilled painters are trained for these instances, we were still able to complete the project successfully. 
In addition to weather-related issues, the team faced another challenge: keeping paint off 10,000 windows during the painting task. If you are wondering how we did it, read on to learn more about it. 
How We Protected Kairos Power's Windows During Painting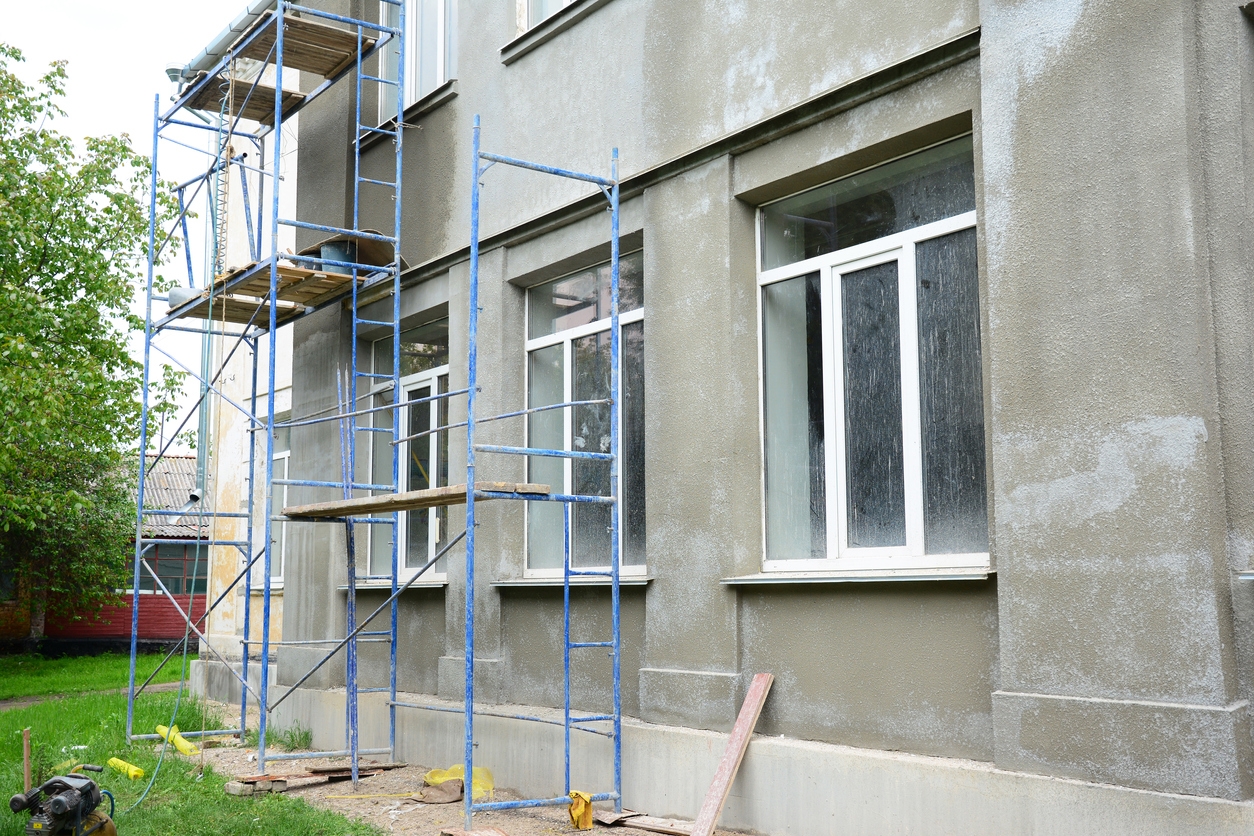 We had to cope with over 10,000 window frames because the warehouse had many windows (including taller ones). We used brown masking paper and masking tape to protect them from paint. We also had to safeguard the glass panes from overspray carefully. However, this was a time-consuming operation. It was a tedious effort, but the end result was a neat appearance.
Below are some of the steps that can be taken in order to protect window frames and glass panes from paint when exterior painting:
Use Paper Strips
Paper strips work similarly to tape, except they are easier to apply and remove. To achieve straight lines, cut strips of paper (ordinary copy paper would suffice) with a paper cutter or straight edge. Wet the paper strips in a pan of water until they are moist but not coming apart. Squeeze off any excess water before applying the paper strips flush along the glass.
They will adhere well, and because the "adhesive" is simply water, it is more forgiving than tape. The strips can be easily shifted about until they are exactly positioned. Once you're satisfied with the placement of the strips, go over them with a dry paintbrush to ensure they remain in place. Simply peel the paper strips off after painting, and you'll achieve clean paint lines with no sticky residue.
Use Masking Tape
Masking tape is usually sufficient to cover glass surfaces. Simply ensure that the tape's edge is flush with the edge of the glass. If you want to try something new, consider using a liquid mask, which may be applied directly to the glass. When it dries, it will harden into a rubbery goo, allowing you to scrape wayward paint flecks clean off the glass.
Apply Masking Liquid
It's also simple to use a product like Masking Liquid H2O. Simply brush the liquid over the glass's borders, let it dry to a gel finish, and then paint away. After painting, use the sharp edge of a razor blade to cut the gel off of the glass and the flat side to remove the gel.
However, before using any of these methods, cleaning the window panes and frames is important. There should not be any dust, debris, or spiderwebs on the surfaces. You can also remove screens, as paint drips on them can be difficult to remove or clean. It's also a good idea to keep a moist rag on hand to mop up any spills as you paint the exterior surfaces. 
You should also use a paintbrush designed for cutting in and painting in tight quarters. It is a good idea to work from the center outwards and try to paint in horizontals first before verticals. When the paint drips are completely dry, use a razor blade or a specialized tool to remove the dried paint and adhesives.
Even though putting cover on window frames and glass panes can be time-consuming, doing this can truly help protect these surfaces and achieve a neat look. 
How Paint Can Transform Old and Historic Buildings
There are different ways that a fresh coat of paint helps transform old and unused commercial buildings. Below are some of them:
It modernizes and refreshes the space.

Paint serves more than just cosmetic benefits. It also removes old paint that has been damaged by weather, dampness, mold, rot, insect infestation, and human activity (such as foot traffic).

Painting an old structure is an important part of preventative maintenance since it protects the freshly painted surfaces from deterioration.
A fresh paint coat can improve an old business building's appearance and feel. It is also an affordable method of preserving an old structure. This is the case with the old hangar in Alameda that has been restored and repurposed into a contemporary facility for Kairos Power, owing to Custom Painting, Inc.'s outstanding efforts despite the adverse weather.
Conclusion
Even though our team at Custom Painting, Inc. found it challenging and time-consuming to cover 10,000 windows, we were still able to carry out the project well and achieve a neatly painted exterior for Kairos Power's warehouse. We have added another satisfied customer to our list after completing this project. 
If you have bought or leased an old commercial building that needs transformation to look modern, we can help you. At Custom Painting, Inc., our skilled painters have an eye for detail and a strong commitment to quality. To learn more about our services, you may call us at 925-294-8062 or fill out this contact form, and we will surely assist you with any painting needs you wish.