The secret of a successful house painting in Livermore lies in the hard work done before a paintbrush ever touches the surface. Painting a poorly prepared surface (or a surface that is not prepared at all) will only result in a shoddy paint job, while quality surface prep work will pay huge dividends.
Knowing how to prepare your home's exterior surface can significantly impact the results. Here's how:
Find out when your home was built. If it was built before 1979, there's a good chance that your home may have used lead-based paint. Your local health department can provide information on how to deal with lead paint removal. The process can be hazardous if the removal is not done correctly. Thus, it's better to hire a professional to take care of this for you before starting the paint job.
There are cases where the paint cannot adhere to the bottom of the garage door or along with decks and patios. The solution is to leave a gap between the wood and the horizontal surface and apply paintable water repellent (which you can buy at home improvement stores) at the bottom of the wood, up to 16 inches.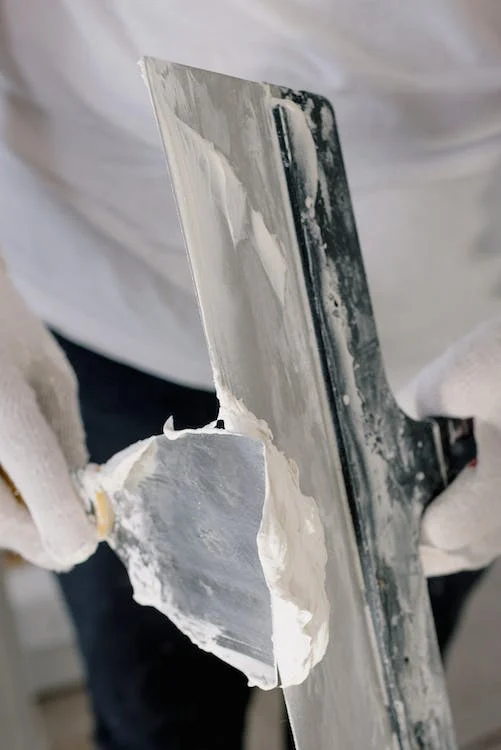 If you see any peeling old paint, scrape it away by using a putty knife or sandpaper. If you have a drill, you can scrape away paint by using the drill with a sandpaper attachment. A heat gun may soften the paint so it will be easier to remove. Be careful not to melt the weather stripping when using the heat gun.
Pay close attention to the condition of the surface as you scrape. Sand weathered firm wood, as weathered wood does not hold the paint very well. Soft areas have to be removed and replaced before painting. Applying a two-part filler may do for smaller areas, but for larger areas, you have to remove it entirely.
Reapply any loose wood siding or trim. That will create an even surface and ensure the moisture will not get behind the wood.
After scraping off the loose paint and sanding the affected wood surface, apply it with primer. Be sure to read the label instructions first on how to apply the primer properly and how long to allow it to dry before you can apply the first coat of paint. If you want longer-lasting paint, apply a second coat.
But if the existing paint is not peeling and is otherwise in good condition, clean the surface. You may clean it with a rag and a water bucket or a garden hose. You may want to use a pressure washer and the right type of detergent to clean more stubborn dirt and hard-to-reach areas. Begin pressure washing at the top of the house to clean the exterior. If the surface has mold, use a detergent with mildewcide or a bleach solution (consisting of one part bleach and three parts water) to clean the surface. After cleaning, rinse the surface thoroughly and let it dry.
Cover bushes, flower beds, or any landscaping with drop cloths to prevent paint from dripping on them.
If you're on a budget but still want a professional to do the actual painting, you can contribute to the project by doing the prep work by yourself. Ask your paint contractor if you can prepare the surface for house painting in Livermore. That way, you can save money and, at the same time, enjoy the benefits of a professional paint job.