Famous locations and historic landmarks matter for many reasons. They make a city or town recognizable by serving as markers for locals and outsiders alike. They draw attention and tourists. Most city centers located in or near these famous landmarks are often suited to a high standard that conforms with the projected quality of the area. Famous locations and landmarks also serve to stimulate people's interest in various cultures and their histories.
These are only a few reasons why famous locations and landmarks matter, both natural and manmade. And this is why the need to preserve and protect them is more urgent than ever, especially with the growing threats of pollution and climate change that are starting to affect heritage sites and monuments.
As for the famous man-made structures, measures have been taken to mitigate the effects of climate change, unpredictable weather, and temperature fluctuations. One of the simple but effective ways to preserve and protect them is through painting. Commercial painters in the Bay Area have access to different types of paint with improved formulations that can protect surfaces from external elements.
Popular sites in Livermore
Livermore is a city in Alameda County, located on the eastern edge of San Francisco's Bay Area, California. It is a suburb of a bigger city, Oakland. 
Livermore's location makes it a perfect weekend getaway destination. Aside from parks, vineyards, and natural attractions, there are many historic sites and other attractions in the city that you would like to add to your bucket list when visiting the Bay Area.
1) Ravenswood Historic Site – (2647 Arroyo Road)
Ravenswood is an estate that includes the former summer home of San Francisco politician Christopher A. Buckley Sr., who built it in 1891. Now it is a popular venue for many events like weddings, birthdays, and other celebrations. The house is listed on the National Register of Historic Places in California.
2) Livermore Carnegie Library and Park – (2155 3rd Street)
The Livermore Carnegie Library and Park first opened in 1911 as a library and continued to operate in the same function until 1966, when a new central library opened not too far away. Today, it houses a historical museum and art gallery. This resplendent building is designed in the Greek Revival (Temple) architectural style, which was popular during the time when the building was constructed.
3) Shiva Vishnu Temple – (1232 Arrowhead Avenue)
Tucked into one of Livermore's most unassuming corners, the Shiva Vishnu Temple is truly a unique cultural attraction in the city. It was constructed in 1977 by the city's Hindu community. With its impressive ornate carvings in the building's façade that exemplify classic Indian architecture, the temple truly stands out in such a conventional California neighborhood. 
4) Bankhead Theater – (2400 1st Street)
People who are into arts and culture should check out the Bankhead Theater. It opened in 2007 as one of the three venues that make up the Livermore Performing Arts Center. Since it opened its doors, the Bankhead Theater has offered various productions all year round that includes family-friendly shows, contemporary music, chamber orchestra, and stand-up comedy.
How can painting protect famous buildings?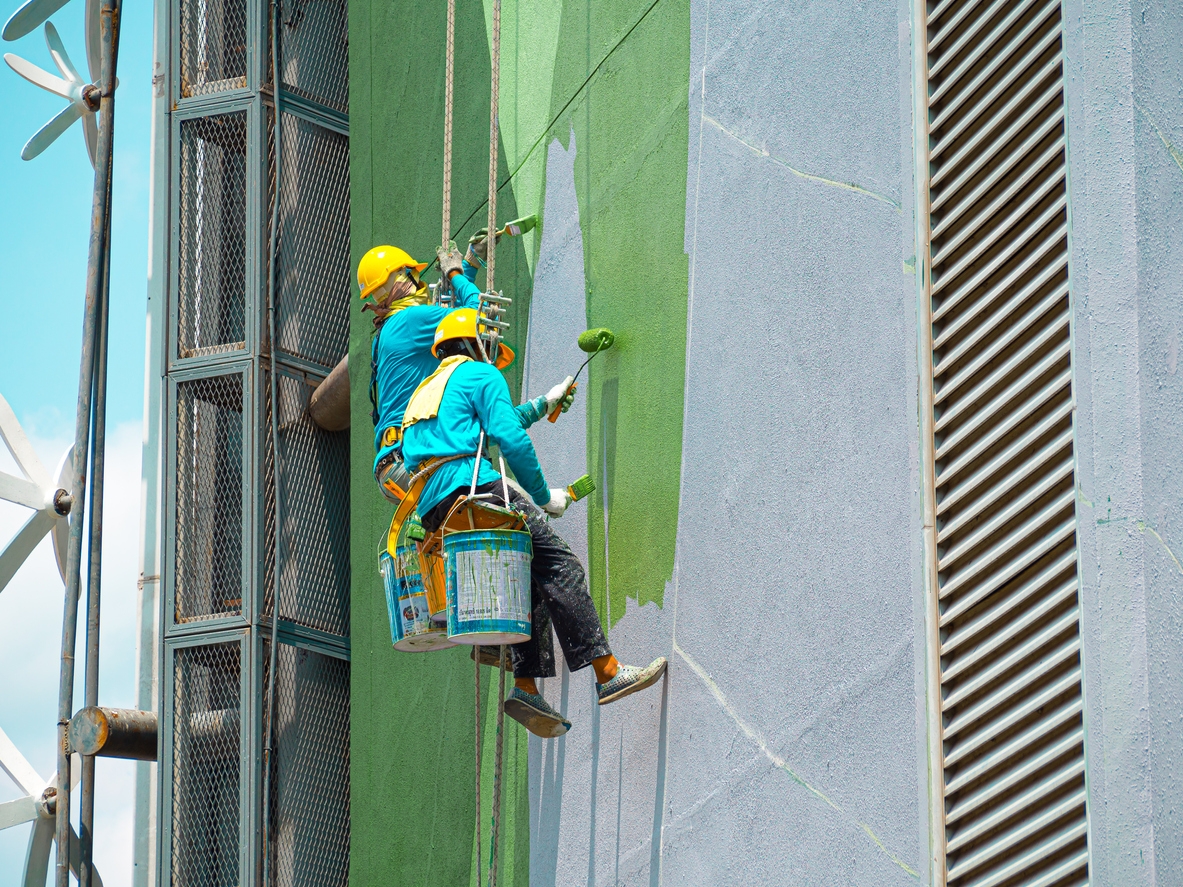 No matter how old or new the buildings are, such as the examples of the popular sites in Livermore mentioned earlier, restoration and preservation are important to maintaining these buildings' structural integrity, character, and historical and cultural value. 
Cleaning, repairing, preparing, and painting the surfaces make up a more cost-effective maintenance solution compared to repairs.
There are many reasons to have a commercial building or historic landmark property painted. Hiring skilled and experienced exterior painters in Livermore is the best way to maintain the building from the outside elements and maintain its appearance and beauty in the years to come.
Paint is not just for aesthetic purposes. Keeping the exterior surfaces painted can seal and protect them from damage caused by weather, temperature, moisture, corrosion, pollution, humidity, and pest infestation.
Commercial buildings and infrastructure are commonly located in urban environments. Apart from the usual external elements, such as fluctuating temperature, commercial buildings are exposed to pollution every day.
Pollutants in the atmosphere can cause significant degradation of paint. Sulfur dioxide In the case of structures made of steel, such as bridges, air pollution can accelerate rust, making them appear unattractive. When metals rust, it undergoes corrosion. 
The combination of air pollution and temperature changes can cause deterioration of painted exterior surfaces. 
Airborne salt can be another cause of exterior paint degradation, and this can be a problem, especially for those living on the coast. San Francisco is often subject to marine fog and low clouds during the summer months. On the coast, fog and precipitation act as carriers that soak the exterior surfaces of homes and buildings with salt. Once the salty dampness dries out on the surface, the dissolved salt starts to crystalize again, which gradually peels the paint.
If you're looking for a long-term exterior paint solution for your homes, buildings, and other structures, the best option is to hire professional painting contractors. 
These contractors are experienced with working with different types of buildings and surfaces. They are also experts in all things paint, so they are ready to provide recommendations regarding the best paints for a specific type of surface. 
In painting buildings that are exposed to temperature fluctuations and air pollution, they are likely to choose a paint product that best resists the impacts of naturally occurring and man-made forces. Along with the correct surface preparation, the right paint products will guarantee long-lasting protection for your home, office building, commercial building, or other structures. Some paints may have the "Class A" fire rating, anti-corrosive properties, anti-UV light, or anti-mold formulas. 
If regular paint projects are something you would want to move away from, get in touch with the best painting in Livermore contractors like Custom Painting, Inc. Call us or fill out an estimate request form. We would love to tell you what we can do to your home or commercial space!