Painting the exterior of a building can be a demanding task, especially when the structure is lofty or multi-storied. Heritage Estates Livermore, being a multi-tenant senior living facility, posed a significant challenge in this regard. While painting it, the paint crew at Custom Painting, Inc. had to adopt proper safety precautions and best practices. You'll learn about the challenges they faced while painting and how they overcame them in this article. 
Exterior Features of the Building
When embarking on a painting project, it is important to assess the structure thoroughly. This helps determine the aesthetic requirements along with any challenges that may arise while working with the building's exterior features.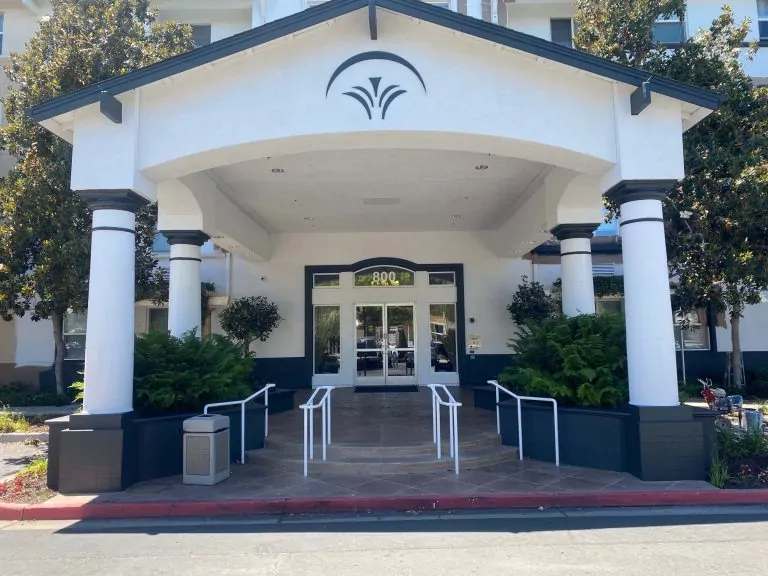 The complex houses 60 to 65 assisted living and 190 independent living units. It is squarish with various exterior features, including:
Patios
This living facility is all about creating a comfortable living space for seniors. It has a few spacious patios that help bring the outdoors inside. 
Besides being an additional working area, patios can be an obstacle, depending on their location and accessibility. So while painting these, the crew had to arrange additional precautionary measures to ensure tenant safety.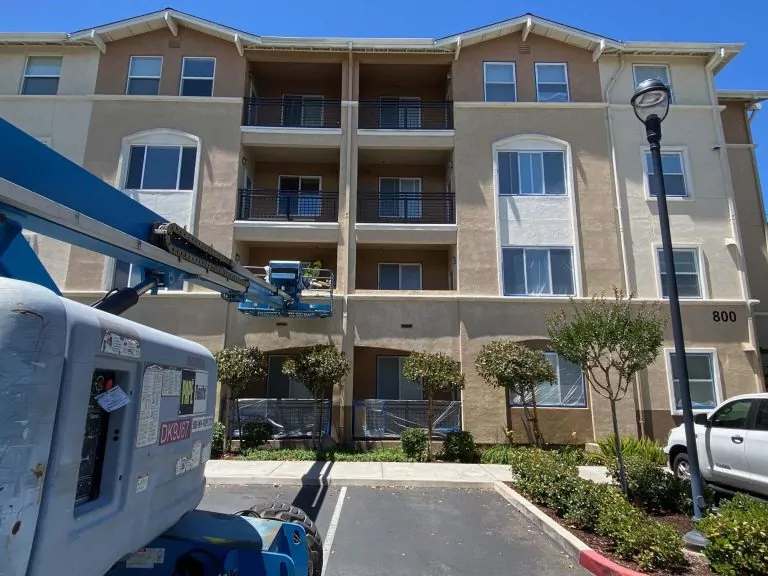 Balconies
Balconies are another tricky exterior feature to work around. The height and potential constraints pose a significant challenge for exterior painting. 
The complex has approximately 20 balconies. They are located across multiple stories and have metallic railings. The workers accessed these using scaffolding or boom lifts while closing off the area below them to ensure the safety of foot traffic. 
Stories 
Considering the stories of a building is important to factor in the necessity and availability of painting equipment. It helps determine the number of scaffolding and lifts required to safely get paint to each level. 
Heritage Estates Livermore has four stories, each measuring 9 to 11 feet high. However, in some areas, the height goes as high as 13 feet. The scaffolding and aerial boom lifts enabled the workers to reach the higher exterior walls and ceilings.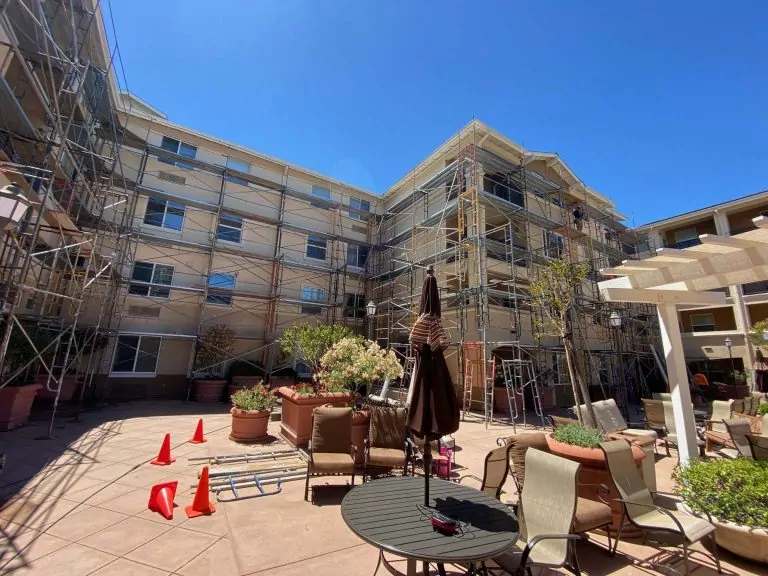 Height
The height of a building dictates how accessible it is from different levels. It plays a major role in deciding which type of equipment can be used during a painting job. 
Since it is a four-story building, the complex is very high. The painting experts worked from aerial boom lifts to reach the higher portions of the building. However, the structure sits on top of an underground parking garage, so they couldn't use lifts for the courtyard due to structural weight restrictions. 
Challenges While Painting 
The crew faced two major challenges while painting the exterior of Heritage Estates Livermore:
Ensure Everyone's Safety 
Putting safety measures in place during the paint job is vital for employees and residents alike. Despite painting the exterior, sometimes access to interior living spaces is also needed. The crew needs to load materials and clean up after completion of work, which is best done from the inside. 
Since the complex had tenants living inside with lives outside, too, it was important to keep them safe while the job was in progress.
Building Height 
The tall building meant more equipment was needed. This, on the one hand, means more cost and time required for the completion of work, while on the other creates safety hazards if the equipment is used incorrectly. 
Plus, the complex sits on the corner of two busy streets and is bordered on two sides by sidewalks with regular foot traffic. 
Overcoming Challenges 
To overcome these challenges, the painting team adopted a few useful strategies. 
The first thing they did to ensure everyone's safety was to close off one area at a time as they worked on it. They were careful to provide alternative access options to areas that could not stay cordoned off. 
When working in interior living spaces, they closed all doors securely. They made sure to keep them shut afterward so the personnel or residents wouldn't enter until it was safe. 
Since painting this facility was an extensive job, they had to employ specialty equipment, such as aerial lifts, barricades, and scaffolding.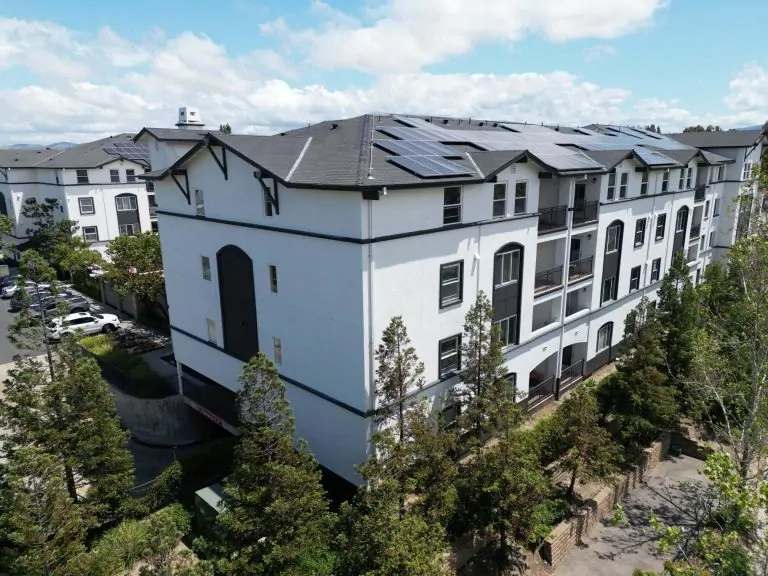 The building weight limits prevented them from using lifts in the courtyard, so they had to use scaffolding. Erecting scaffolding around the entire courtyard enabled them to reach the different stories to paint.
As for the exterior walls, the aerial lifts made it easy to reach higher areas of the complex. However, it was essential to close off sidewalks and streets so no passerby was at risk. There was an instant when they had to close a portion of the roads to one traffic lane.    
Painting Process 
The paint crew consisted of eight to fifteen workers at any given time. For paint application, they used an airless pump sprayer because it goes on smoothly. The scaffolding or boom lifts ensured they had access to all three areas – the patios, balconies, and courtyards.
When painting outside, it is important to select a paint type that can withstand weather conditions while providing adequate protection against wear from abrasion and UV light exposure over time. They used Sherwin-Williams A-100 flat on the stucco walls and Sherwin-Williams DTM (direct-to-metal) paint on the metal balcony railings. Approximately 1,500 gallons of paint went into phase one of the project.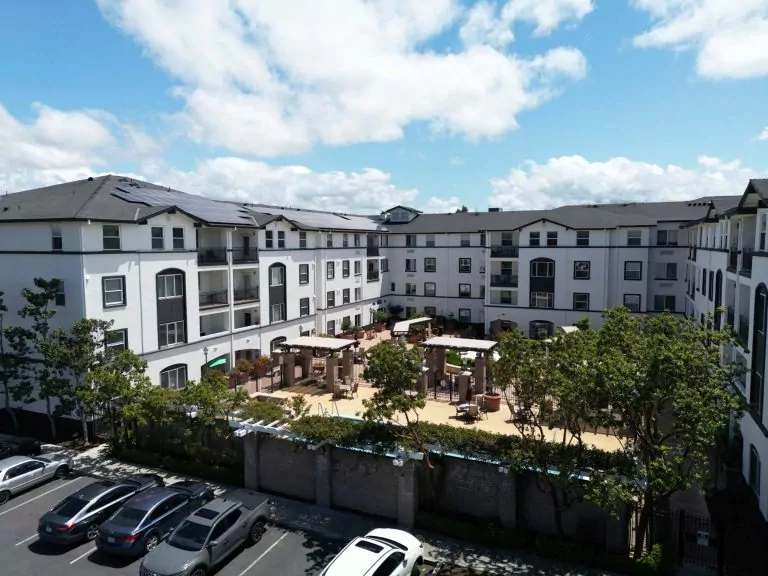 Safety Measures Followed While Painting 
Here are the safety measures that were followed for this project:
The crew wore safety fall-prevention harnesses while using boom lifts to prevent falls. 

They covered and protected adjacent finishes and the residents' personal items so that paint drips wouldn't damage their belongings. 

They attached plywood ceilings to the scaffolding so that dropped items don't fall on and hit anyone walking below the scaffold.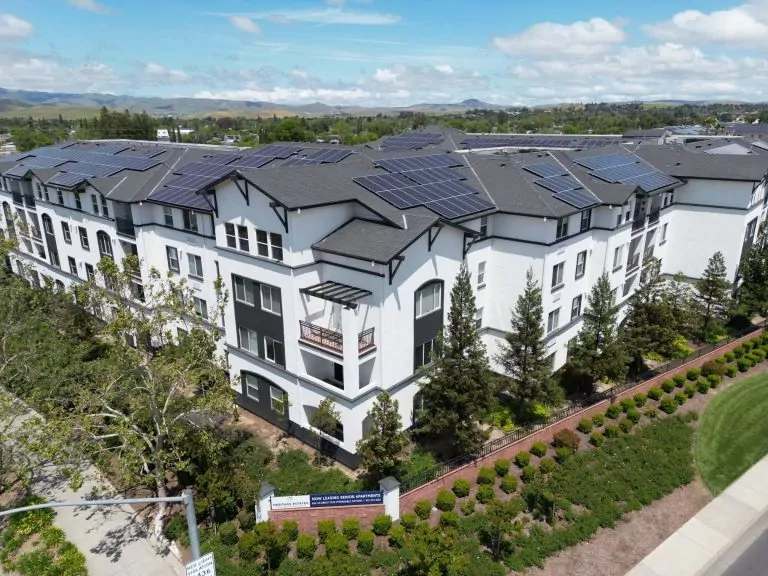 Conclusion
Exterior painting jobs are demanding tasks that require careful planning ahead of time in order for everyone involved. Painting Heritage Estates Livermore was a challenge because the safety of the employees, tenants, motorists, and pedestrians was paramount. Being experts, our crew managed to overcome all the challenges the project posed and completed it successfully. 
If you need exterior painting in Livermore, CA, don't hesitate to reach out. Whether you have a specific vision or are seeking a professional eye to help you choose colors that complement your brand, we can handle your project. Call us at 510-795-0903 for your consultation and free quote.